Are you running a golf tournament?  Need to collect registrations and payment? D. E. Systems' myConferenceSuite, a complimentary product to Snapup Tickets has customized Golf tournament templates you can use for your next tournament.
The system is easy to setup, accepts payment by credit card through a multitude of payment gateways, including paypal, moneris, beanstream, authorize.net, Chase payment tech and a host of others.  The system is fully customizable but includes fields for registering single golfers, foursomes, hole sponsors, special dietary needs, miscellaneous donations as well as club and cart rentals if needed.  myConferenceSuite also has built in social media integration to assist with marketing and promotion of your tournament.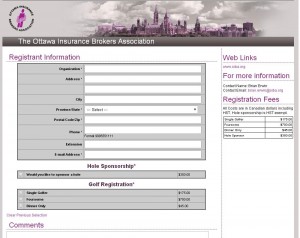 Here are some other tips for running a successful golf tournament:
Sponsorship-look for sponsors-everything from giveaways to hole sponsors.  Sponsorship will ensure a successful event for all.
Market your event-to your audience, membership, on social media etc…   Consider early bird rates to get registrations in sooner.
Collect items for Auctions.  If you are running a fundraising golf tournament, collecting prizes for auction or running a 50/50 ticket prize can boost your donations.
Communicate game day instructions in advance.  A quick group email to your registration table indicating start times, hole starting position in case of a shot gun start and other event info will reduce the onsite QandA for event staff.
Contact our Event Registration team for info on how MyConferenceSuite can assist with planning your next golf tournament.  Visit www.myconferencesuite.com